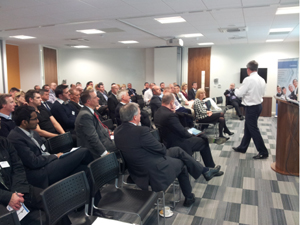 If you're setting your goals for the coming year and beyond, you might find it helps to consider who you are going to be as well as what you are going to do, or how exactly you are going to be present to other people. At first sight, you might say, "well, of course, I'm just going to be myself," but there's a little more to it than that.
You see…
Who you are now might (as I've said before) be a shadow of your future self. You could choose to be yourself as you anticipate becoming, not as you are now.
If you hesitate to take that step, try asking yourself if you would give yourself permission if you were 70 (or 80, or 90). In other words, as your sense of time changes, does it seem more important to do what you know you could choose?
If so, why not choose it now?
_________
I've decided to make available the notes (6 pages) from a talk on the keys to leadership I gave recently. In particular, the notes include specific and ground-breaking insights into how to get organisations to learn and change and increase their performance, which, of course, doesn't happen by accident, and much more.
You can get the notes with the insights the audience found thought-provoking by email here…
https://www.drdavidfraser.com/keys-to-successful-leadership/
Thank you for your support and interest this year and best wishes for 2013.