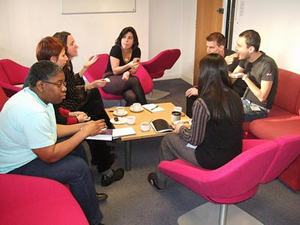 Well, one of the troubles with profiling…
In forming teams, it's a good idea to bring together complementary skills and personality types. Diversity brings performance, though it may not be comfortable at first.
So we reach for the psychometric tests—how handy to be able to profile people and select them for roles in teams.
But there's a problem…
Actually, probably several problems, but let's focus on one…
Unless we're very careful, the use of profiling strengthens the belief in team members that they don't need to change; that they don't need to develop their flexibility. After all, they've been told they're an xyz, and perhaps even encouraged to play to their profile, to be an xyz to the full—to avoid flexibility, in fact.
In letting this situation persist, we make a fundamental error…
For a team to be successful, it needs to learn, and for a team to learn, it needs its members to be searching out their individual development, not staying in their boxes.
Otherwise one of the conditions for learning and growth in an organisation—personal mastery (responsibility for one's own change)—isn't present.
We've taken it away with our profiling.