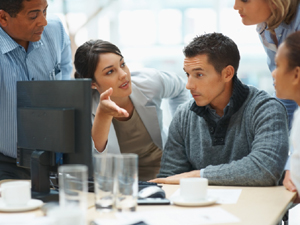 Most of us suffer from this at times, either on our own account, or indirectly when other people catch the affliction… We find ourselves justifying our involvement in a meeting or project, or making points to show our expertise, or maybe just to show we are present.
We fear we might be excluded from important decisions or left behind on the sidelines or simply squeezed out from having any further part to play.
We can call this role insecurity—a nasty condition in which we're not confident our role is what we'd like it to be.
The thing is…
Many of our behaviours arising from insecurity about our role actually make the problem worse, because we inadvertently discourage others from involving us as much as we'd like. Talk too much and without sufficient purpose and others will tire of our presence.
Sure, we need to demonstrate our expertise but it's much better to do that in a "show, don't tell" way. Just "act as if" your role is as you would wish it to be, and make your value-adding contribution when the time is right.
And because of the effect of individual insecurity on the team, it's good to help other people to do this, or put them at ease about their involvement.
Are you affected by role insecurity?