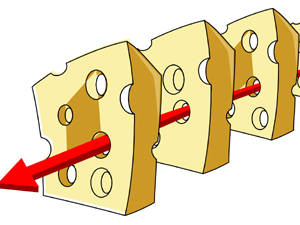 The Swiss cheese model is central to thinking about systemic failure. The idea is that each potential factor, which, when combined, could create a condition in which an accident could occur, is like a slice of a Swiss cheese with holes in it.
All the factors are represented by slices, all randomly (or not so randomly) jiggling around alongside each other. If the holes suddenly line up all the way through the slices, then an accident occurs because all the factor are aligned—system condition, design weakness, temporary modification, operator error, supervisory weakness, external circumstance, and whatever else.
The system can operate without the slices lining up for a long time, years or even decades. Everybody thinks an accident can't happen because it never has. And then suddenly it does.
Now…
It can be a bit like this with success. Lots of factors are needed for success, and some or even many of them may not be that well known. For example, we may not know which marketing will work for the new product, which positioning will be right, what will be the right price point etc.
Of course, we can test, and we should.
But still…
We may need the Swiss cheese slices of success factors to shuffle into the right alignment. How are we going to get them there?